Aquaculture
South Central Coast rears pompanos by Norway's cage technology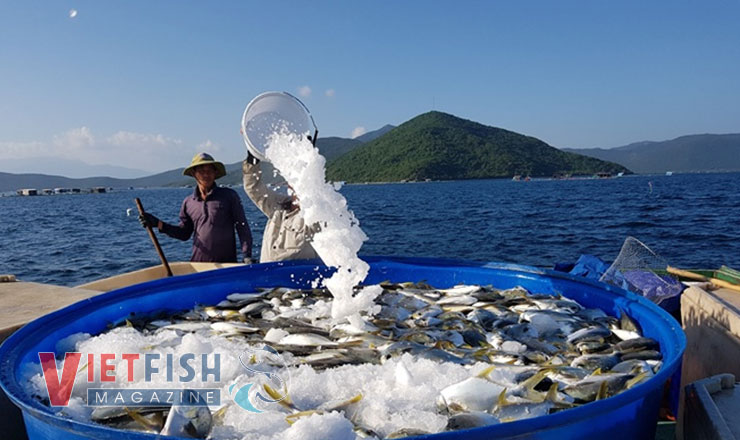 Sea cage farming in the South Central Coast is a potential direction of development which should be recognized as a national strategy as this land has geographical advantages of long coastline, unpolluted water, suitable salinity, little difference among seasons, variety of surrounding deep bays.
HDPE plastic cages are installed following Norway's technology which may last at least 50 years under the sea and resist typhoon level 12. Research Institute for Aquaculture No.1 (Ria1) is mastering the technology on farming pompanos on Vân Phong bay of Vạn Ninh district, Khánh Hòa province and it will be transferred to some local and foreign companies.
It takes half an hour to go by canoe to Ria1's farming area. The 80,000-hectare sea surface of Vân Phong bay is windproof because it is surrounded by various small and large islands. Ria1's sea cage farming area is 10 hectares with 20 round cages of commercial pompanos and some square shaped cages of broodstocks and several special species on trial.
Phạm Đức Phương, a technical expert of Ria1 said that the Institute can master Norwegian technology and install cages spending over 300 million dong on 2,500m3 round cages, one third of imported price. Phương said that transferring would be full service, including farm design, cage installation, broodstock provision, feed formulation, and farming technique. His colleague and he were successful in transferring the technology to a company in Phú Quốc – Kiên Giang with initial four cages and eight ones in the future.
Cages are designed to resist typhoon level 12. Typhoon Damrey slammed Vân Phong bay early November 2017 with wind gust level 14-15 and destroyed every ordinary cage; however, Ria1's cages remained unharmed. Minimum distance between cages must be 100m to satisfy required density and prevent pollution. This is the first sea cage farming model of Vietnam to meet VietGAP scheme. With effective management, it produces 200-250 tons/year, most of which is exported to the US, Japan and Middle East countries.
Ria1 decides to rear pompanos as it fully masters the production technology of broodstock and optimizes feed formulation to place orders in factories. The Institute produces more than one million broodstock of pompanos for commercial farming every year and then transfers them to farmers. With the Institute's technology, no antibiotics is used but butterfish is kept healthy with survival rate over 75%-90% within 6 or 7 months from stocking to the end of crop. The Institute maintains full control of quantity and health of farmed fish.
Cost pricefor farming pompanos by Norwegian cages, including cage amortization, harvest boat, transport, is 80-85 thousand dong/kg, while selling price on shore is 125 thousand dong/kg, making profit accounting for one third of revenue. Such model is stable and low risk.
However, technology cost is high. Four cages may cost more than one billion dong, not mention boats which are needed for transporting feed and harvest fish. Thus, only companies and cooperatives have enough money to take the technology.
Ria1 will continue and complete the optimum feed formula to reduce Feed Conversion Rate (FCR) and selling price. The Institute will research to use domestic equipment to install cages so that more famers can afford the technology once its cost price is lowered.
VFM