Aquaculture
Worry pervades the whole pangasius farming area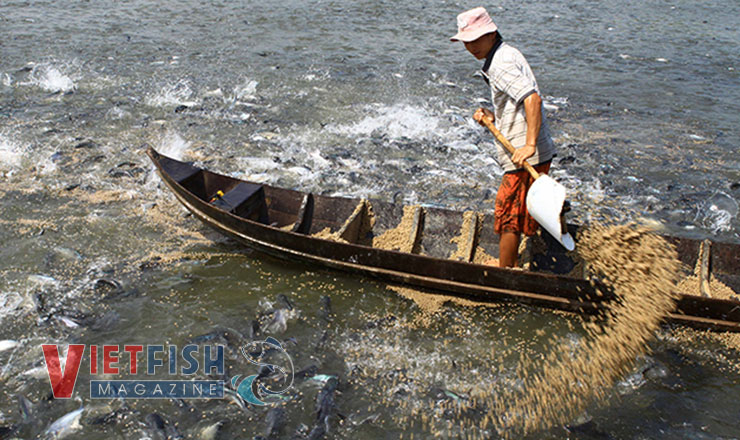 After a long time when pangasius prices stayed at high, it started to decrease at the end of May 2019 with material pangasius being sold at 23,000 – 25,000 dong/kg and fries 17,000 – 18,000 dong/kg. This has made farmers terribly worried the way they were two years ago.
Vice Chairman of An Giang Aquaculture and Seafood Processing Association Lê Chí Bình said "When price went up, more and more pangasius were stocked, causing higher material cost. Now when price falls, once again farmers are suffering from break-even or loss".
Pangasius exporting companies said that sales in the two large importers China and the US are reducing. Particularly, sales in China – Hong Kong reached 39.47 million USD in March 2019, down 12.9% year-on-year while sales in the US decreased by 44% compared to the same period in the previous year. In the first three months pangasius export volume to China-Hong Kong reached 99 million USD, down 1.8% and the US 71 million USD, down 5% year-on-year.
More concern has come when United States Department of Commerce announced the result of the 14th administrative review (from August 2016 to July 2017) with unfavorable tax imposed on pangasius. Such potential markets as UAE, Columbia, Brazil are reducing their import of pangasius.
National Agro – Forestry – Fisheries Quality Assurance Department states that technical barriers from countries in the world requires increasingly higher criteria of quality and food safety. China is tightening its import of agricultural products and seafood through borders and imported seafood must be produced by listed facilities enclosed with certificates.
EU gives warning that any Vietnam's seafood processing facility that is detected with prohibited antibiotics will be ticked off the list while Brazil bans the use of food additive, checks other criteria and stops importing violated cargos. Russian Federation checks regularly and suspends importing if the sellers involved in violation.
Due to difficulties in sale, material pangasius (size 0.8-1kg/pc)was sold at 32,000 dong/kg averagely at the end 2018 and fell to 23,000-25,000 dong/kg by May 2019. According to companies and pangasius farmers, they earn only 1,000-2,000 dong/kg profit at such price. Price of fries sized 30 pcs/kg hit on September 2018 at 70,000 dong/kg but fell sharply to 25,000-30,000 dong/kg on January 2019 and now slumps to 17,000-18,000 dong/kg.
Worry pervades the extended pangasius farming areas. Particularly in Long An, farmers changed 1,500 hectares of rice field into pangasius fries stocking farm, with Tân Hưng district 1,000ha, Tân Thạch over 300ha and Vĩnh Hưng 100ha. Farmers are facing serious dilemma.
Farmers' discretion to change traditional cultivation into pangasius farming without learning techniques may cause epidemic diseases. In 2018, Department of Agriculture and Rural Development checked 29 facilities of production and nursery and found out that many of them failed to follow regulations and half of them got certificate type B. In 2018, Đồng Tháp spent 2,450 hectares on farming commercial pangasius (exceeding 4.03% of plan), with yield reaching 470,000 tons (exceeding 3,3% of plan). This year the province planned to harvest 530,000 tons of pangasius (6,000 tons before) and stocked further 50,000 fish fries to fulfill target of 1.8 billion pcs. This seriously worries local farmers at present.
The sombre picture of pangasius industry has slowed down investment plan into large-scale projects which companies announced at the end of 2018 and early 2019. Deputy General Director of Trường Giang Seafood Company Ong Hằng Văn said that some companies announced to invest into pangasius fries and commercial pangasius production project worth thousands of billion dong, but "schedule has been slowed down, even halted".
VFM