Fisheries
Khánh Hòa eliminates illegal fishing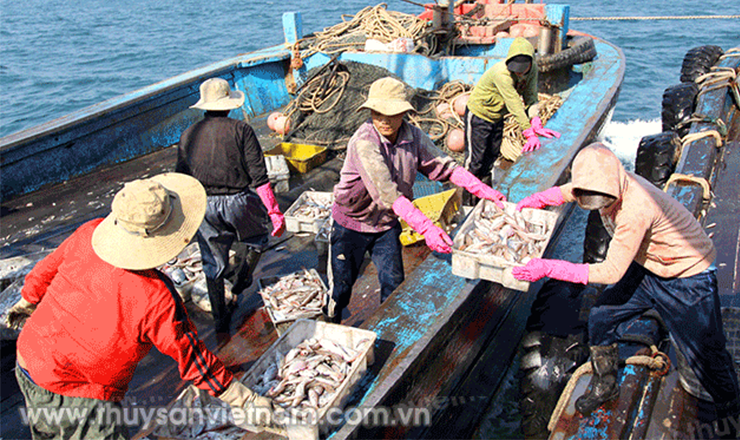 According to statistics by Fisheries Sub-department, Khánh Hòa has around 9,808 fishing boats with total capacity of 653,687 CV, 1,330 offshore fishing boats and 5,500 inshore ones.
Farmer Phan Thanh Long in Ninh Hải ward of Ninh Hòa town said all farmers hope to erase fishing practices by rakes which are destructive, causing the exhaustion of inshore seafood resources. Competent authorities have enhanced their surveillance and patrol to prevent those boats from fishing by rakes in Vân Phong Bay and this works.
Vice Chairman of Ninh Ích People's Committee of Ninh Hòa town said that there were many junks and boats involved in destructive fishing. In 2018, 599 patrols and 1,592 administrative controls were carried out, discovering a variety of violated cases and giving administrative sanction decisions on 51 boats, confiscating 61 rakes, 12 electrical shooters and exciterswith 100 million dong fine amounts imposed on violated individuals. Since early 2019, they conducted 208 patrols and 348 administrative controls on fishing boats with 51 million dong settlement imposed on 19 violated cases.
Widespread publicity has raised farmers' awareness of damage that destructive fishing brings out. Further surveillance and settlement have eliminated many destructive fishing practices. Provinces with big worry amid destructive fishing activities such as Nha Phu pond, Cam Ranh bay, Thủy Triều pond, and Vân Phong bay have felt their peace again recently. From the point of view of professional inspectors, banned fishing practices using rake and exciter decreased by 80% as compared to 2017 whilte there has not been any fishing case by toxic or explosive detected since early 2018.
According to Head of Inspection – Legislation (Fisheries sub-department), Decree no.42 by the Government regarding administrative sanction settlement in fisheries industry will become effective soon. It stipulates much higher fine amount imposed on violated cases than the previous documents. For example, fishing boats under 20CV capacity involved in prohibited area are going to be imposed 25 million sanction settlement instead of 2 million dong as before; besides fishing tools will be confiscated. Fisheries industry will boost the publicity of new fishing regulations and work with competent authorities to conduct further patrols and surveillance of fishing boats.
VFM