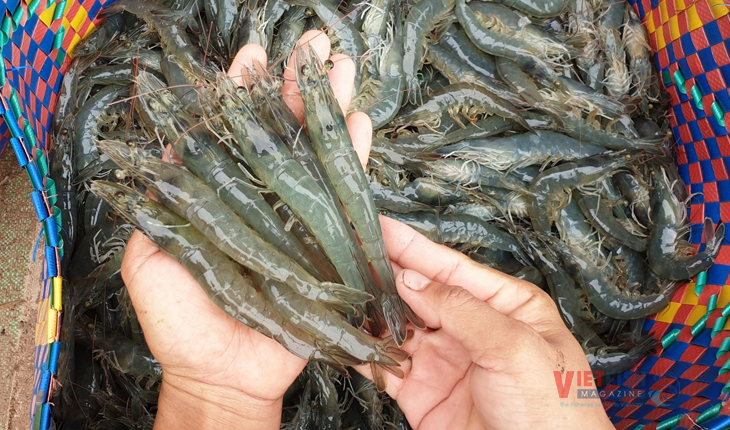 After around 70 days of stocking, Thành's shrimps weigh up to the size 50 pcs/kg. Despite a slump in shrimp prices, Thành earned more than 120 million dong profit.
High technology based shrimp farms to adapt to climate change are encouraged to expand in the Mekong Delta. The high density super-intensive practice in a floating pond has been proving its remarkable quality as compared to super-intensive shrimp pond liners. Farmer Phạm Tiến Thành, in Thống Nhất hamlet, Vĩnh Hậu commune, Bạc Liêu province, is one of participants in this model and achieves great success. The August crop is a leading example in his success after nearly two years pursuing this practice.
The high density super-intensive shrimp farm owned by Thành is 3.6 ha wide and comprises four main ponds, 500m2 each, with water filter and discharge treatment area. Wastewater is reused for different purposes but discharged to the surrounding environment.
Thành said he invested more than 2 billion dong into this model and earned 100-400 million dong from each crop. This model helps reduce risks and ensure high sustainability.
He carried out 3-4 shrimp crops with a density of around 200 pcs/m3 water. High quality and SPF postlarvae must be selected. Thành's farm was put on trial for high technology to adapt to climate change in Bạc Liêu.
Traders came to his farm very early to prepare for purchases in defiance of an already storm.
More than 10 people gathered in a group with tools and equipment to pull and transport harvested shrimps to a truck which then would go to the seafood company in accordance with contracted time so that shrimp quality wouldn't be affected after harvest.
Selling prices were agreed after checking sizes and quality of shrimps. Traders usually made payment right after shrimps were scaled.
Thành said that this model aims to a core target of increasing productivity, quality and product value together with environment protection. When strictly following the farming process, shrimps will have a high survival rate, farming water can be reused, products satisfy standards of exports and the model can be developed by small and medium size shrimp households.
VFM