Fisheries
Vietnam tightens the control of fishing boats on the high seas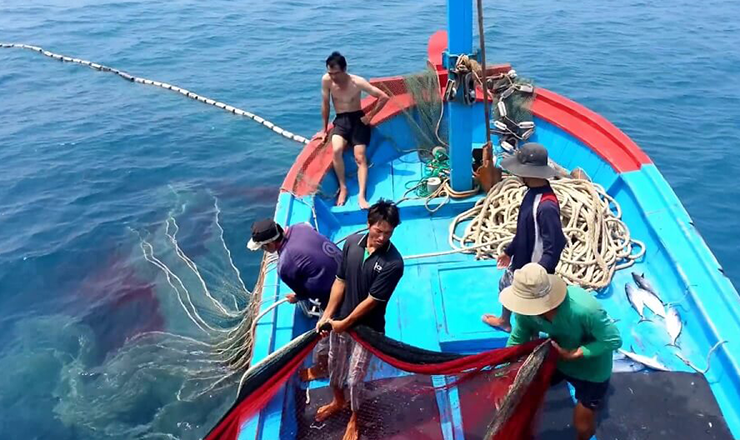 In the morning of September 08, at the Government Office, Deputy Prime Minister Trịnh Đình Dũng, Head of the National Steering Committee on IUU fishing prevention (NSC on IUU) presided the fourth meeting with the attendance of leaders of ministries, sectors and key prefectures about IUU prevention.
According to reports by the Ministry of Agriculture and Rural Development, there are specific remains in IUU fishing, such as incomplete installation of VMS in fishing boats, especially boats with at least 24m long, which affects the management and control of fishing boats without VMS because those might operate on the ocean and violate the IUU fishing regulation, especially trespassing foreign water territory. The enforcement of regulations on IUU fishing violations has been enhanced but the results are not impressive in the face of multiple boats trespassing foreign waters. Vietnam's competent forces are requested to continue to review, investigate and strictly handle the violated cases, assuring the deterrence of law. The number of Vietnamese boats being captured and handled by foreign authorities has been less than the previous year, but the situation is still overwhelming with collisions of fishing boats, leaving fatal damages to Vietnamese fishermen (for example the recent deadly shooting of Kiên Giang's fishermen by Malaysia's coastal guard during the capture and treatment on August 16, 2020).
Those remains were driven by a lack of awareness of IUU fishing prevention, poor leadership, direction and resources allocation, leading to unintended consequences. Besides, the performance and implementation of IUU fishing prevention-related regulations in the Fisheries Law 2017 and instruction documents have not been decisive and synchronous. Organizations and individuals (businesses and fishermen) have not strictly followed regulations of IUU fishing prevention. As for Vietnam's fishing boats trespassing foreign waters, Bùi Trọng Thế, Major General, Deputy General Director of the Department of Economics and Security under the Ministry of Police said that the Ministry investigated the intermediate agencies that took domestic fishing boats to foreign waters for fishing and discovered 8 suspicious groups. They intended to work with relevant institutes for handling this situation.
In the next few months, 28 coastal prefectures must adopt suitable solutions, frequently check and monitor the implementation and sharing of data. They must promptly report generated issues beyond their jurisdiction, including treatment of cases trespassing foreign waters, boost domestic and international media of the efficiency of IUU fishing prevention, and disseminate regulations of IUU fishing prevention to fishermen. The trespassing foreign waters must be stopped. This is the most important issue that the EU recommended and the risk of a "red card".
VFM