Markets
Prices of tuna material fell sharply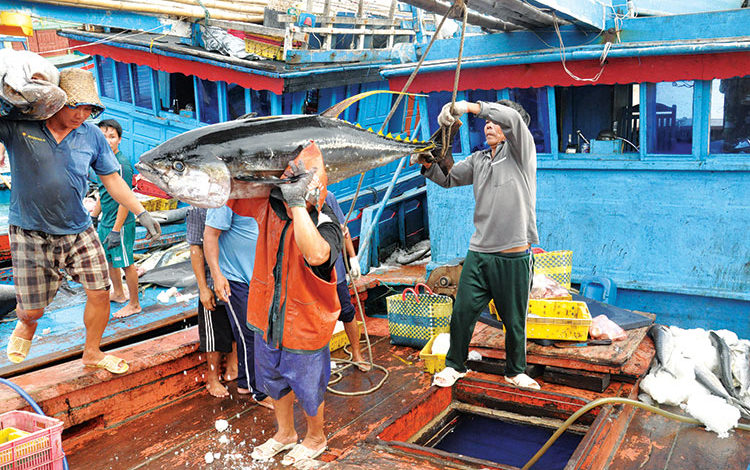 Vietnamese tuna exports have been slow since late 2022, making prices of tuna material fall down sharply.
Võ Ngọc Tùng, Vice Chairman of the Phước Đồng Fisheries unit in Nha Trang city (Khánh Hòa province) said that ocean tuna fishing vessels docked in Hòn Rớ port with low output, around 1 ton of fish each averagely. Ocean tuna was bought by businesses at 120-125 thousand dong per kilogram, down 20,000-25,000 dong/kg as compared to the same period last year.
A vessel must spend averagely 110-120 million dong for a 20 day trip. Very few fishing vessels earn profit but most of them suffer loss or break even despite the main season of ocean tuna.
Tùng said that aquatic resources have become exhausted, including ocean tuna. It's hard for fishermen to catch 25-30 pcs, equal to one ton. Thus, when the price of ocean tuna goes down and production cost rises, vessels will suffer from serious loss. 
Tùng had to sell some fishing vessels due to frequent loss. The rest vessels shifted to exploit surface water fishes such as skipjack tuna and mackerel.
The price of ocean tuna was so low that fishermen have struggled with making money. And yet, the fishing vessels are taking advantage of the main season to catch ocean tuna. "Moreover, if they don't go fishing, what else can they do to earn their living", said Tùng.
According to processing businesses, exports of ocean tuna have been slowed down since late 2022. Despite little orders, businesses remain their operation to keep workers' feet.
T&H Nha Trang Ltd.,Co in Diên Thọ commune of Diên Khánh district is making great effort to produce even though orders are just equal to 30-40% of the last years.
Huỳnh Đắc Trí, Director of T&H Nha Trang Ltd.,Co said that Vietnam's ocean tuna exports have been slowed down, as many as 70-80% of customers halt placing orders to deal with inventories first. Thus, Vietnam's ocean tuna exporting companies receive very few orders, making the domestic price of this species fall sharply. 
T&H Nha Trang Ltd.,Co said that if the price of ocean tuna slumps and the fishing output is low, fishermen will stop their work due to insufficient cost. However, with such a dismal exportation of ocean tuna, the recovery must be delayed until the next June and July. However, according to businesses, this is just a forecast, not for sure.
VFM