News
Bosch Vietnam earns 2023 Great Place to Work Certification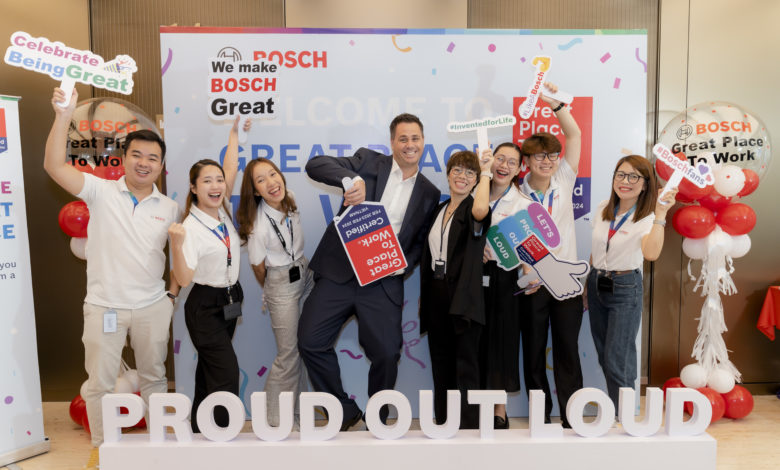 Bosch Vietnam has been recognized as a Great Place to Work for its dedication to cultivating a high-trust and high-performance workplace culture. Bosch Vietnam focuses on fostering an employee-centric working environment with the principles of Grow, Enjoy, and Inspire.
Ho Chi Minh City, Vietnam – Bosch Vietnam, a leading global technology and services supplier, has been recognized as a Great Place to Work in 2023 by Great Place to Work®, the global authority on workplace culture assessment and recognition. The award is a testament to Bosch Vietnam's unwavering commitment to creating a positive and engaging work environment for its employees.
The evaluation was based on surveys completed by 1,272 employees and assessed several key factors such as trust, respect, fairness, camaraderie, and pride. The survey revealed that 89% of the employees rated Bosch Vietnam as a great place to work, highlighting the company's commitment to fostering a positive workplace culture.
Mr. Sathyanarayana T K, Vice President – Human Resources & Chief of Operations states that "Our team members are given the freedom to take on new tasks, learn new skills, and promote innovation in everything we do. We think that fostering development, pleasure, and motivation in the workplace is the key to success, and we are dedicated to continuing to engage in our people to ensure their success and contentment."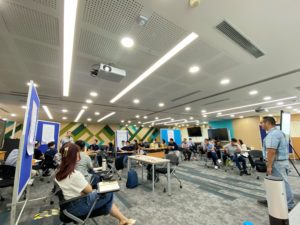 Bosch Vietnam has a strong record of investing in its employees' growth and development. The company offers a wide range of training and development opportunities, including leadership development programs, technical and soft-skills training, and cross-functional training. In addition to investing in employee's development and enjoyment, Bosch Vietnam is committed to providing a variety of benefits and policies that support employees' health and well-being, such as flexible work arrangements, multiple wellness programs, and a variety of health and insurance benefits. Bosch Vietnam also has a strong commitment to diversity, equity, and inclusion, and is actively seeking to build a more inclusive workplace where all workers feel appreciated and respected.
"We believe that every employee should be able to bring their whole selves to work and feel supported and valued," said Ms. Tran Thi Thu Tham – Head of Human Resources of Bosch Vietnam. "We are committed to creating a workplace where diversity is celebrated and where every employee has the opportunity to grow and succeed."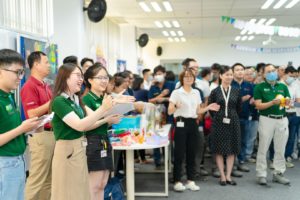 About Great Place to Work
Great Place to Work is the global authority on workplace culture, employee experience, and leadership behaviors. Through proprietary assessment tools, advisory services, and certification programs, Great Place to Work recognizes outstanding workplace cultures in over 60 countries and helps organizations create and sustain high-trust, high-performance cultures that enable employees to reach their full potential.
Contact person for press inquiries:
Nguyen Thi Bich Phuong- Corporate Communications Manager
 Bosch in Vietnam
Bosch established its first representative office in Ho Chi Minh City. Since 2007, Bosch has expanded its footprint in Vietnam where it has branch offices in Hanoi and Da Nang, as well as a Powertrain Solutions plant in the Dong Nai province to manufacture pushbelts for continuously variable transmissions (CVT) in automobiles. In addition, Bosch operates a software and engineering R&D center as well as an automotive R&D center for mobility solutions in Ho Chi Minh City. The Bosch software and engineering R&D center extended its footprint to Hanoi in June 2022. In fiscal 2021, Bosch recorded consolidated sales of about 192 million euros in Vietnam. As of 31 December 2021, Bosch employed approximately 5,000 associates in Vietnam. Bosch has diversified businesses in Vietnam. Today, all four Bosch business sectors, namely Mobility Solutions, Industrial Technology, Consumer Goods, and Energy and Building Technology have operations in the country.
Additional information is available online at: https://www.bosch.com.vn/, https://www.linkedin.com/company/bosch-vietnam and https://www.facebook.com/OfficialBoschVietnam. 
About the Bosch Group
The Bosch Group is a leading global supplier of technology and services. It employs roughly 401,300 associates worldwide (as of December 31, 2021). According to preliminary figures, the company generated sales of 78.8 billion euros in 2021. Its operations are divided into four business sectors: Mobility Solutions, Industrial Technology, Consumer Goods, and Energy and Building Technology. As a leading IoT provider, Bosch offers innovative solutions for smart homes, Industry 4.0, and connected mobility. Bosch is pursuing a vision of mobility that is sustainable, safe, and exciting. It uses its expertise in sensor technology, software, and services, as well as its own IoT cloud, to offer its customers connected, cross-domain solutions from a single source. The Bosch Group's strategic objective is to facilitate connected living with products and solutions that either contain artificial intelligence (AI) or have been developed or manufactured with its help. Bosch improves quality of life worldwide with products and services that are innovative and spark enthusiasm. In short, Bosch creates technology that is "Invented for life." The Bosch Group comprises Robert Bosch GmbH and its roughly 440 subsidiary and regional companies in some 60 countries. Including sales and service partners, Bosch's global manufacturing, engineering, and sales network covers nearly every country in the world. With its more than 400 locations worldwide, the Bosch Group has been carbon neutral since the first quarter of 2020. The basis for the company's future growth is its innovative strength. At 128 locations across the globe, Bosch employs some 76,300 associates in research and development, of which more than 38,000 are software engineers.
Additional information is available online at www.bosch.com, www.iot.bosch.com www.bosch-press.com and http://twitter.com/BoschPresse