News
Seafood industry expects to reach $8.6 billion of 2020 export target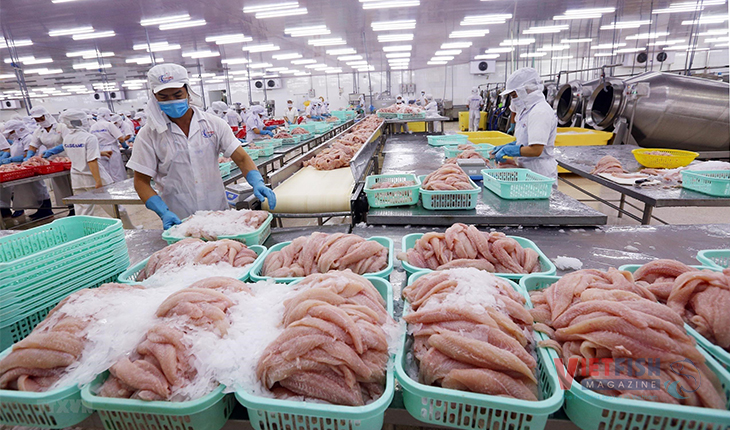 With positive signs from growing market demand and opportunities benefiting from the Europe-Vietnam Free Trade Agreement (EVFTA) that comes into effect on Aug 01, Vietnam sets a target of bringing in $8.6 billion from seafood exports this year.
Vietnam brought in nearly $3 billion from seafood exports in the first five months, down 8% from last year, according to the General Department of Vietnam Customs. "Even though seafood export volume fell at the time of coronavirus outbreak, this number shows a remarkable effort and the sector is confident to fulfill the target of $8.6 billion in 2020", said Trương Đình Hoè, VASEP's General Secretary in the forum "Searching for a solution to Vietnam's seafood and agricultural product exports" on June 26.
The aquaculture chain needs a more careful control system to improve quality and reduce the unit price of exported products, strengthening their global competitiveness.
In Hoè's opinion, the target of $8.6 billion is set based on the amazing speed of sales of shrimps in the first five months of 2020 which allows the shrimp sector to achieve an export volume of $3.8 billion. High demand in marine species can result in an export volume of $3.8 billion in defiance of IUU yellow card warning. The pangasius sector alone estimates to reach $1.6 billion due to a slump earlier this year. Furthermore, the EVFTA, which has been recently approved by the Congress and will come into effect on August 01, will absolutely enable Vietnam's fisheries industry to fulfill its target.
However, Vietnam must swiftly have solutions to four challenges in the material supply chain, including broodstocks, market development, logistics of exports, and administrative procedures which should be simplified to create a favorable condition for businesses.
VFM